I've been thinking and writing quite a bit over the past couple of weeks about the LinkedIn professional network. Today, pondering what I might post about here that could be helpful to someone, I got to wondering how useful LinkedIn is for home-based professionals.
My first thought was that a distinction probably needs to be made between the needs of
those who are working from home and at the same time hoping to score sooner or later a position that would take them into a company or organization workplace and
those professionals who are committed, long-term, or at least for the foreseeable future, to working from home and are happy about that.
The short story is that LinkedIn can help both the person working from home temporarily and the one who is in for the longer haul.
Perhaps in different ways, or with different emphases.
The man or woman working from home and hoping to find a position which will take them back into corporate life will want to use LinkedIn to help with that process. LinkedIn is a standard port of call for recruiters looking for people to fill professional positions. Not having a profile there and not taking care of the profile is like not having a resume to send when there is the prospect of a position, or at least an interview. With a resume you send, you would usually have the option of staying up late and working on it. With your LinkedIn profile, you may never know that someone with the job of a lifetime came looking for you and did not find you, or did not find in your profile some information that may have won you an interview but was not there because, like so many people who are technically "on LinkedIn" you hadn't managed to make time to work on the content of your profile.
So if you are in this "temporarily home based" group you will take care to develop as impressive a profile as you truthfully can and keep it up to date.
You will also use such features as LinkedIn Answers and LinkedIn Groups to raise awareness of you and your skills – your "Brand You".
Those who are happy with the idea of working from home indefinitely, maybe even for life, will presumably have some kind of product or service to sell and Linkedin can help there. An informative, engaging LinkedIn profile will still be important – I would say essential – but you will have tweaked it to draw attention to what you are wanting to sell, rather than emphasizing such items as your professional qualifications. Although if your strategy is to position yourself as, say, a thought leader, you may be focusing more on what the profile says about you – you just won't make it look like an ad for a job. You will also use features such as LinkedIn Answers and LinkedIn Groups, but you may choose to use them in such a way as to draw attention to your product or service. That's not the same as being shy or retiring in terms of your particular skills and talents, but rather a matter of what you choose to draw attention to, in terms of your strategic business objectives.
As regular readers will know, I am definitely in the long-term work-from-home category – a lifer you might say.
And I have benefited a great deal from my membership of Linked, especially in terms of the professional alliances and personal friendships it has made possible. In fact I never cease to be amazed at the way, working from home, I can connect with professionals in a global network based on trust. I remember years ago, learning about LinkedIn and wondering how or from whom I could get an invitation to join and being stumped. I can't recall now whether there was an option, as there certainly is now, to join without an invitation, but I do know that now, with my immediate circle of first level connections, some 495, I can connect with literally millions of other professionals in a range of countries.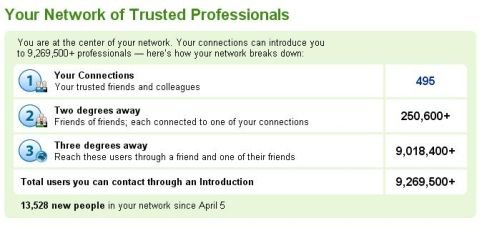 On my Des Walsh dot Com site I started, just over a week ago, a series of blog posts with tips on using LinkedIn to good effect. As I go along I think of more things to share, so I frankly don't know how many tips there are going to be. The first two posts in the series are:
Tip #1: Review Your Profile Regularly
I'll link from here to subsequent posts in the series. If you want the RSS feed link for that site, it's http://feeds2.feedburner.com/Deswalshcom
And if you have a story about how LinkedIn has helped you or anyone in a work from home situation, or in other contexts I would love to hear it and I hope you would be happy to share it. Just leave a comment below.
The following two tabs change content below.
Latest posts by Des Walsh (see all)