"It's an ill wind that blows nobody any good" might not bring instant encouragement for people who have been "downsized", or put out of their jobs, however that may be described by whatever weasel words are in corporate HR vogue these days.
But one area in which I see potential gain for many people is in a field I know a bit about, coaching.
For people who want to get back into a paid job as quickly and as effectively as possible, it could make good sense to find a coach who specializes in helping people with that process or an aspect of it, for example effective social networking for business or how to prepare for and conduct yourself in an interview. That can help the person seeking a job and of course it can also help the coach.
For others who may be thinking of something more like striking out on their own, now might be a time to look at professional coaching, a business which many people run from a home office.
About six years ago I was at a bit of a crossroads myself, not that I'd been put out of work – I'd had my own consulting business then for about fourteen years so I was the only one who could "downsize" me. No, it was more that I was restless for a new professional challenge that the consulting work I was doing then was not giving me.
I will always be grateful to the friend, himself a coach, who encouraged me to look at becoming a coach.
My first reaction was "that's not me", but as I researched the industry I started to see that this could be something I could enjoy doing and which could be personally and professionally satisfying.
And I will always be grateful that in the process I teamed up with Coachville, a global community of coaches and a provider of extraordinary resources.
True to the spirit of its founder, the late and extraordinary Thomas Leonard, whom I was privileged to meet and observe demonstrating coaching, Coachville is always coming up with new angles on coaching, new programs to help keep coaches at the leading edge (or ahead of it, sometimes!).
The latest offering, the Coachville Business Academy for Professional Coaches, is to my way of thinking extremely timely. The programs to be offered by the Academy are clearly focused on helping coaches establish and grow their businesses to be financially viable as well as rewarding in other ways.
I've posted some thoughts about the Academy initiative at my Des Walsh dot Com site. In that post I mention that on Monday, December 22, Coachville CEO Dave Buck will be hosting a  teleconference call which is being billed as a preview for programs about to be launched by the Academy. There are actually two calls, presumably to accommodate people with different timezones.
The first call will be at 12 noon on Monday December 22 – Eastern time USA; the second will be at 7 pm ET, Monday December 22. I will be tuning in to the second, because the first will be in the depths of night my time!
If you are already a coach, or someone you know is, or if you or someone you know might be wondering whether coaching could be a cool thing to get into (hint: it is) then I commend Dave's call to you. It will give you a sense of the Coachville "style", which is special.
There is a pre-requisite for participating in the call, namely to be a member of Coachville. There is no charge for that and you get access to some great resources online. So the steps are, if you want to participate and are not yet a member of Coachville, go here to join Coachville. Once you are a member – or if you are a member already – you register for the call here.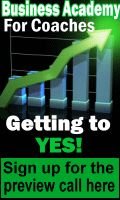 If you have any questions you would like to fire at me after reading this post and don't want to use the public comments, please get in touch via the Contact form on this blog.  Or contact Coachville directly.
The following two tabs change content below.
Latest posts by Des Walsh (see all)