I know about backlinks – also known as incoming links, inlinks and inbound links or inward links – and why they are important in terms of your blog's ranking. Positively and negatively.
I understand that knowing more about my backlinks and their quality is an important part of any search engine optimization (SEO) strategy.
But I know also that I don't know nearly as much as I should. And what is more problematic is that I don't know what I don't know.
Which says to me that my sites might be missing out on an improved ranking, just because I'm not paying attention and taking appropriate action.
One reason I know that understanding the whole backlink thing is that my China-based friend and colleague, Lonnie B. Hodge, who is a search specialist, refers often to backlinks and their importance.
And as I'm scheduled to record a conversation with Lonnie this afternoon, I thought it would be timely to do some checking in my own backyard, starting with my Des Walsh dot Com site on WordPress.
I discovered some interesting information and had a couple of surprises.
My checking used three types of tools:
the list of backlinks you see when you log in to the admin section of your WordPress site
the list provided by Technorati on your page there
various automatic backlink checkers you can find with a Google search.
In this post I'm focusing on what I learned from the WordPress site.
When you go log in to the admin section of your WordPress site, it should open at the Dashboard. You see a column of recent comments on the left and a column of Incoming Links on the right as in the screenshot below.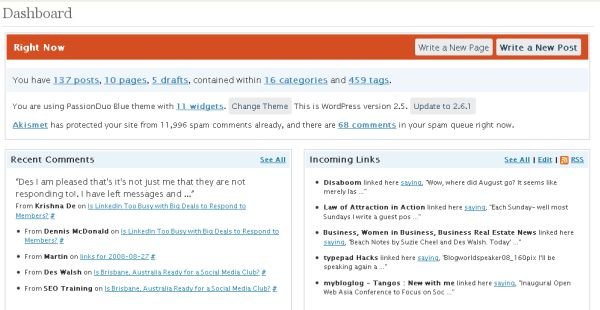 What I found today, as the screenshot shows, were:
a link from the Disaboom site where my friend Glenda Watson Hyatt, a.k.a. The Left Thumb Blogger mentions me – and links to Des Walsh dot Com – in the context of talking about going to Las Vegas for BlogWorld & New Media Expo
a link from my partner Suzie's Abundance Highway site, where she is recounting a conversation she and I had and linking to the Des Walsh dot Com site
a link from a site which has evidently copied, without attribution, a post which Suzie had sent to our colleague Liz Strauss for her Successful Blog site and which had a link in it to Des Walsh dot Com
a link from the typepad Hacks site of John T. Unger who posted about speaking at BlogWorld & New Media Expo and specifically about the panel he and I are on
a link from the mybloglog page of "Tangos", who had left a comment on Des Walsh dot Com
How have I used this information today?
I left a comment on Glenda's post: this was a good thing to do, first because I wanted to publicly acknowledge my friend's mention of me and secondly because it is about conversation and I coach people to spend time commenting on other's posts so as to be part of the conversation
I mentioned the apparently unauthorized copying discovery to Suzie, who sent a message to Liz Strauss: interestingly, the person who owned the site had left an easy trail back to his Facebook page!
I decided to check out my backlinks on Technorati – with somewhat more startling and disturbing links. To be revealed in the next post in this series!
also I used a few of the freely available online backlink checkers – that will be a third post.
What's your strategy or practice with managing your backlinks?
What am I missing that would make me more effective in this department, if you wouldn't mind sharing?
The following two tabs change content below.
Latest posts by Des Walsh (see all)