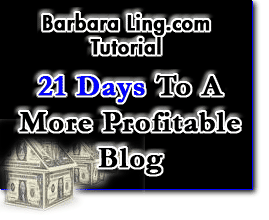 Barbara Ling has a fantastic 21 day step by step training going on over at Barbara Ling.
Today is on Day 4, but I would recommend going back and starting at Day one and learn to internalize where online money comes from.
Barbara is a very successful online marketer and her blog is full of juicy tips and tricks to help you both become a better blogger as well as making your blog proftable. As she says:
"Ever wish your blog brought in more money that it currently does right now?
I'll make no bones about it – blogging and site building is how I make my living online. Over the years, I've built up multiple streams of income via niche portal creation, e-book marketing, emailed e-seminars and the like"
Head on over and make your blog profitable, starting today.
Once I have completed my BHAG project I will be taking my blogs through the 21 days process.
Related Posts:
The following two tabs change content below.
Latest posts by Suzie Cheel (see all)