How is this for a great competition for home based businesses?

Startup Nation, which is in itself a terrific resource for home based and other businesses to plug into, has lined up some prestigious co-sponsors for what is apparently the first national competition for home based businesses. Other sponsors are Dell Computing, Microsoft Office Live and Southwest Airlines.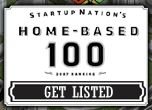 I find this really exciting.
Not that I expect to win, or even intend to enter. Because my business is not physically in the US, so it's not eligible.
I'm excited because when you get companies/brands of this caliber supporting and encouraging home based business it becomes less of a challenge to promote a positive, professional image of home based business. I know, plenty of us don't have to be convinced. But there are still people, some of them in influential positions, who just don't get that you can have a real, successful, highly prosperous business and work from home.
As the competition site says:
Gone are the days of commuting, cubicles and overwhelming capital costs – traded in for a broadband connection, a home office, and a level playing field. The Home-Based 100 exists to celebrate this group of innovative, nimble and resourceful entrepreneurs that have gone largely unrecognized until now.
Yea! As in, We Are Home Based, Hear us Roar!
And I love the way the competition has been designed. There are two basic categories, or options, which between them provide scope for all sorts and sizes of business, at whatever stage of development or turnover.
The first category is the 100 Best Performing businesses, which will be judged on revenue.
The second is a kind of Home Based Business Idol with ten potential Idols. It's the Top Ten Special Categories competition, which will be selected by Startup Nation judges after a popular competition. The special categories are:
Wackiest
Yummiest
Boomers Back in Business
Grungiest
Worldliest
Most Slacker-Friendly
Each of these is explained on the site. If you are going to enter, leave a comment here – who knows, that might get you a vote or two from readers?!
Thanks to Chuck for the link.
Lion photo courtesy TouTouke via stock.xchange.
The following two tabs change content below.
Latest posts by Des Walsh (see all)